About Gabrielle

Gabrielle was born and raised in Colorado Springs, Colorado by two special parents. She wrote her first poem at the age of four.
Her imagination was constantly being stirred in childhood by the simple things in life that are all around us...a snowflake falling, a blade of grass growing, a brook flowing, a butterfly flying, music sighing, a weeping willow weeping, fresh air breathing, a rainbow bowing, a bird's song singing and on and onů
For Gabrielle, writing comes as inspiration... an unpredictable magic. The "child in us all" can understand the deeper meaning of truth that is portrayed through the use of metaphors in her imaginative stories. Like the caterpillar who becomes the butterfly...she stopped struggling, grew wings and learned to fly in order to capture dreams and to bring to life all the little stars she writes about.
Over the years, she has personally read her stories in different schools before children of different ages. A special project in an elementary school involved a fifth grade art class illustrating three of her stories. It was noted by teachers and parents that the children's behavior improved and they were affected in positive ways by these stories.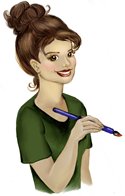 All illustrations on this web site
and in our books are by
Erin Elizabeth Richardson
Thank you, Erin