Introducing Woodyland

From Gabrielle's inspiration came the on-going series "On the Way to Woodyland".
It has stories that are relative to all of us as we travel through our own pathways in life. The stories are about building self esteem while we are still children, establishing responsibility and values in life. And, most of all, the stories are about learning how to make better choices in everyday life through observing the age old "golden rule" which exists in every philosophy and tradition. An enchanting group of characters lives in the forest of Woodyland and acts out these everyday dramas that parallel our own lives.
And so the story begins…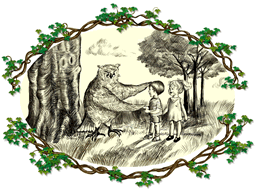 Twilight in the forest…the time when misty moments skillfully blend sunny days into dark nights. And, a brook winding through the middle of the forest babbling through time…separates the two lands one from the other…setting the stage for the learning…the understanding…the adventure…in a place that is not in the past nor the future a place that has always been and always will be.
As children play, a peculiar thing happens. The sounds of the nearby forest beckon them from boredom…calling them silently on the wings of the wandering wind. The birds sing as their unspoken message also follows the wind with invisible notes which whispers to the children unknowingly, quietly…suggesting the adventure.
"What is Woodyland, where is it, and how do we get there?" asked the children. "So many questions in young minds," Hodge thought. Then he said quietly, under his breath. "We go back through the tree".